CD SEVEN POWERS OF THE CREATIVITY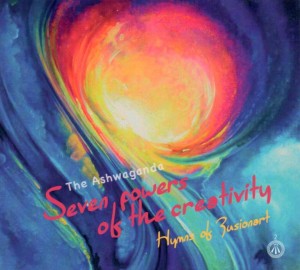 Cena: 360 Kč + poštovné 
Toto CD je výsledkem spojení dvou umělců z různých kontinentů. První umělec, hudebník a skladatel, avantgardní divadelní režisér a choreograf z ČR a druhý vizuální umělec Rassouli z Kaliformie, USA. Rassouli je zakladatel hnutí Fusion art. Hudba a umělecký projekt je určen pro otevření kreativity člověka, spojení tvůrčích sil se svým srdcem a otevření pocitu na jedinečné cestě tvůrce. Hudba evokuje všechny aspekty tvořivosti.
There is nothing els e than this
I know that i know nothing
The heart is getting open
I believe in the Existence
Rassouli
Welcome cordially
To you how many worlds are waiting
Rassouli
Welcome cordially
The passion bow to tohe power of your painting
A springing soul, the soul is singing so
To the sea the river is flowing
A springing soul, the soul is singing so
Gracious eyes to the stars are shining
Born from love, the endless love was born
You are wondering at the mystery
Born from love, the endless love was born
You are wondering at the mystery
Born from love, the endless love was born
The way of love is our victory
Rassouli
Paint the vissions carefully
Let your crazy colors bless the space
Rassouli
Paint the vissions carefully
Children dance on the lights lace
Turning round and turning round
Petals of roses are grace
Turning round and turning round
Woman in her own embrace
Born from love, the endless love was born
Wearing her creative exstasy
Born from love, the endless love was born
Living the dream of our fantasy
Rassouli
Jalaluddin Rumi
The gorgeous heart a loving Muse
Rassouli
Jalaluddin Rumi
Miraculously the art does fuse
Born from love, the endless love was born
Searching for dissolving in the clouds
Borm from love, the endless love was born
Having thousands of tastes in the mouth
A beautiful bossoming cherry tree
Making us singing about life
A beautiful blossoming cherry tree
We cherish the essence of being alive
THERE IS NOTHING ELSE THAN THIS
There is nothing else than this
wich lives and still is
Every moment of the life
enters into bliss
The old is slowly dying
the new is being born
Tommorow will never come
The etarnity is sworn
I KNOW THAT I KNOW NOTHING 
He who knows he will learn something
He who doesn´t he will learn nothing
I don´t know that I know nothing
I don´t know that I know something
I know that I know something
I know that I know nothing
There is nothing live than this
which the living really is
Every pilgrim on the read
nature source reachtes
Something is falling asleep
Something fell asleep
Soon the lively is renewed
which is hidden in deep
There´s nothing pure than this
which pure really is
Every human who was born
will esperience the peace
Even that soul´s gone astray
will shake off his gyvers
Nobody is so conjured
everything revives
To acme go up slowly
Go up to acme
let be conscious before end
To acme, to acme
To acme, to acme
To acme, to acme
Let be conscious before end
Be and float with what still is
THE HEARD IS GETTING OPEN 
The heart is getting open
Our life is more deepen
The heart is getting open
Man adores a woman
The heart is getting open
Passions by love brighten
The heart is getting open
The women accpt the men
QVE - GREETING TO LIFE AND DEATH 
Ave, Ave, Ave
Ave
Its me here still living in this world
All being consious and breathing
My colour palette seen and heard
The world´s fragrance is so heaving
With the breath I am awake and clear
All mystery I feel so deeply
Sensing the colors I see and hear
The death and the life pair so sweetly
Oh Love, oh divine love
La, la, la
Oh loe oh divine love
la, la, la
Oh love divine the purest wine
Oh love divine come make us shine
Oh love divine a playful mime
Oh love divine come make us fine
I BELIEVE IN THE EXISTENCE 
I bealieve in the Existence
Aware of the holy presence
Passion flares and leaves me realing
Love brings light and peaceful feeling
Let me sense the relaxation
My life is the celebration